Outlook Duplicate Remover Customer Reviews
Duplicate Remover saved me tons of time. I cleaned all my Outlook folders from Duplicates in just a few minutes. Good thing all removed duplicates are backed up so I can check them anytime.

About Outlook Duplicate Remover
The Duplicate Remover is a Windows software download for Microsoft Outlook Desktop. Using Duplicate Remover, you can find, remove, or merge duplicate emails, contacts, and calendar events in Outlook automatically. There are no settings to adjust, so it's very easy to use. Duplicate search is free of charge.
Features
Free search for all types of duplicates
Find duplicate copies of emails, contacts and calendar events. Searching for dups is free, while the full software version will remove or merge all duplicates entries automatically.
Time and money-saving software
Finding and removing duplicates in Outlook is hard and time-consuming. However, there is no need to look through hundreds of duplicate contacts or emails. Duplicate Remover will find and remove all duplicates in Outlook automatically.
Delete duplicate items quickly
Remove all Outlook duplicates with just one click. Even if you spotted thousands of duplicate items, they will be removed in less than a minute. Clean up your Outlook and make it run much faster.
Merge Outlook duplicate copies automatically
Merge Microsoft Outlook duplicate contacts, emails, tasks and calendar entries. Duplicate Cleaner is a fully automatic tool without any settings to configure. MS Outlook Duplicate Remover will merge all duplicate items automatically.
Review duplicates before merging
Before removing any duplicate items, your may choose to review a detailed search report. You can select which duplicate should be considered as original, so that all identical items or are merged with that original.
Automatic backup
All removed duplicate items are backed up automatically in the Deleted items folder. You can review them anytime and revert easily if needed.
Enjoy our 14-days no risk money-back guarantee. If you are not satisfied for any reason, you will get your money back. Buy now and get the best deal.
Deduplicate folders in any Outlook version
Fix duplication issues. Find and remove mailbox duplicate copies. Microsoft Outlook 2019, 2016, 2013, 2010, 2007 and 2003 are supported. Clean up duplicate entries in IMAP, Exchange, Hotmail, Office 365 accounts. Windows 11, 10, 8, 7, x32 and 64 bit.
MORE FEATURES
How to Find Duplicate Items in Outlook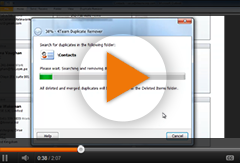 Just follow these simple steps:
Download, install and launch Outlook Duplicate Remover on your PC.

Click Duplicate Remover button on the Outlook Ribbon.

In case if you need to change the folder, click "Select another folder" and then click "Remove Duplicates" button.
In just a few seconds, Duplicate items in the folder you have selected will be found. All removed Duplicates will be backed up to the Deleted items folder. You can review and restore them easily if needed.
About 4Team Corporation
the company behind Outlook Duplicate Remover
We are a Microsoft Gold Certified Partner and independent software developer for MS Outlook. Since 1999 we have provided business solutions to our corporate customers and individual end-users worldwide. We are very proud to offer award-winning support and be highly recommended by our satisfied customers.
Our satisfied customers
Customers all over the world are successfully using 4Team Corporation services for personal and business needs